Stay
Every room at Can Sull is a world of its own.
All rooms have their own personality, they keep the spirit of Mallorca.
The smell, the light, the decoration, the colours – let the guest feel the contrasts of the island.
Featuring free Wi-Fi, a sun terrace with a pool, and a garden with a sauna, Can Sull is located in Cas Concos. Each room has a private bathroom en suite, air conditioning, ceiling fan, underfloor heating, flat-screen satellite TV, safe, minibar and free Wi-Fi.
The rooms are mainly in white and sand tones with green accents and therefore very bright. They sleep in comfortable King or Queen size beds and almost every room / suite has its own balcony with a wonderful view of the Majorcan garden and pool, as well as Cas Concos with its impressive church.
The "Bad en Suite" (French: "in the room") describes a transparent hotel room design in which the bathroom is directly integrated into the sleeping area. A completely new feeling of space is created by the fusion of the open bathroom with the bedroom – a free, open space with plenty of daylight and transparency.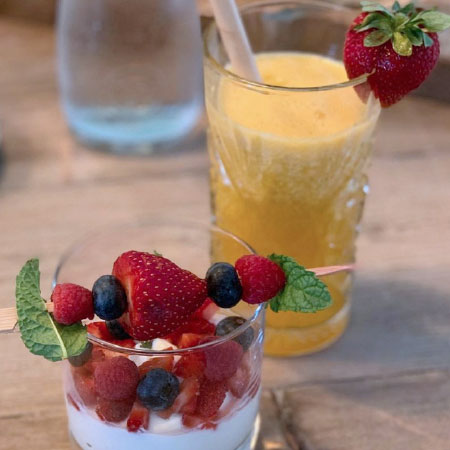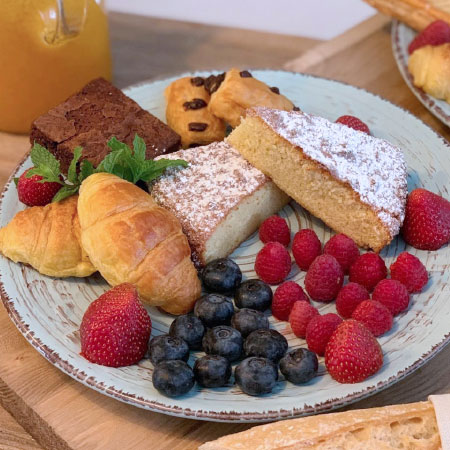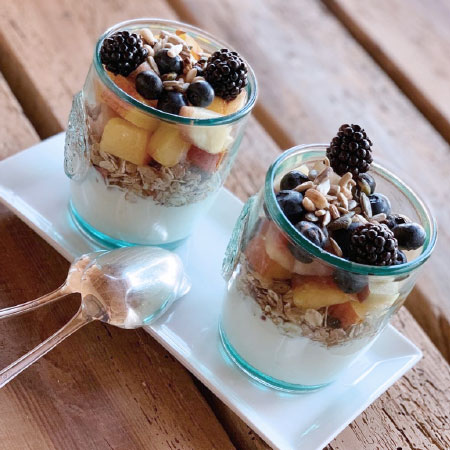 BREAKFAST
The day starts with a delicious continental breakfast, which is included in the room rate – with fresh fruit, vegetables, muesli, eggs, bread, pastries, cheese, cold cuts and jam – mostly homemade.
| | | |
| --- | --- | --- |
| Breakfast times: | Monday-Saturday: | 8:30 bis 10:30 Uhr |
| | Sunday: | 9:00 bis 11:00 Uhr |
Double room
from 168 € upwards
Room size: 20 m²
1 large double bed (1.60 m x 2.00 m)
bathroom en-suite with shower
Concrete floor
Pool towels and kimono
Hairdryer
TV
Air conditioning
Ceiling fan
Floor heating
Wifi
Minibar
Safe
Double room
with view into the garden
from 178 € upwards
Room size: 23 m²
1 large double bed (1.60 m x 2.00 m)
bathroom en-suite with shower
Concrete floor
Pool towels and kimono
Hairdryer
TV
Air conditioning
Ceiling fan
Floor heating
Wifi
Minibar
Safe
Double room with balcony
and with view into the garden
from 203 € upwards
Room size: 23 m²
1 large double bed (1.60 m x 2.00 m)
bathroom en-suite with shower
Concrete floor
Pool towels and kimono
Hairdryer
TV
Air conditioning
Ceiling fan
Floor heating
Wifi
Minibar
Safe
Double room with terrace
and with a view into the garden
from 203 € upwards
Room size: 23 m²
1 large double bed (1.60 m x 2.00 m)
bathroom en-suite with shower
Concrete floor
Pool towels and kimono
Hairdryer
TV
Air conditioning
Ceiling fan
Floor heating
Wifi
Minibar
Safe
Double room with sun terrace
and with panoramic view
from 203 € upwards
Room size: 20 m²
1 large double bed (1.60 m x 2.00 m)
bathroom en-suite, freestanding bathtub with shower
Concrete floor
Pool towels and kimono
Hairdryer
TV
Air conditioning
Ceiling fan
Floor heating
Wifi
Minibar
Safe
Junior suite with large sun terrace
and with view into the garden
from 312 € upwards
Room size: 37 m²
1 large double bed (1.60 m x 2.00 m)
bathroom en-suite, freestanding bathtub and separate shower
Concrete floor
Pool towels and kimono
Hairdryer
TV
Air conditioning
Ceiling fan
Floor heating
Wifi
Minibar
Safe